Our Team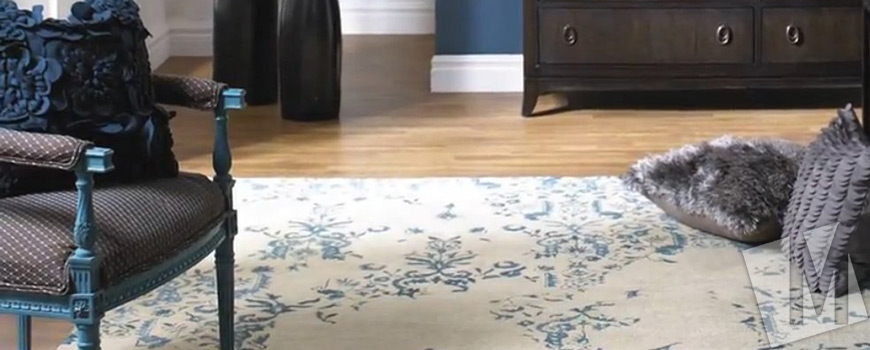 Meet our talented team who will oversee your project from concept to completion.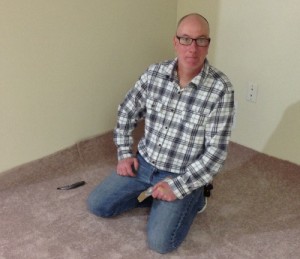 Daniel Curry
Dan is a seasoned carpet installer with over 25 years of experience. He recently attended a Certified Floorcovering Installers (CFI) hands-on training class in Dalton, Ga., covering the latest Carpet and Rug Institute standards and installation techniques. He completed the course and earned his CFI Residential Level 1 Certification, passing with the highest score in his class. In addition to handling carpet installations, Dan works on tile, hardwood and other projects as part of our team.
Outside of work, Dan enjoys spending time with his family and is a motorcycle enthusiast. He is also an accomplished chef and was a radio DJ.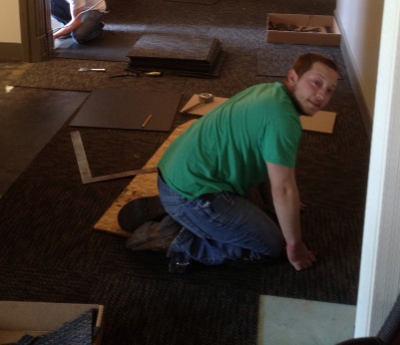 Cody Kagarise
Cody is in his second year at Myers Floors & Interiors, having been trained and worked as an electrician for several years prior. He's learning all facets of flooring and tile installation, from how to correctly prep floors to powerstretching carpet to fitting moldings. His eagerness to learn and upbeat personality has already made him an integral part of the team.
An avid golfer, you can find Cody honing his driving and putting skills when not at work.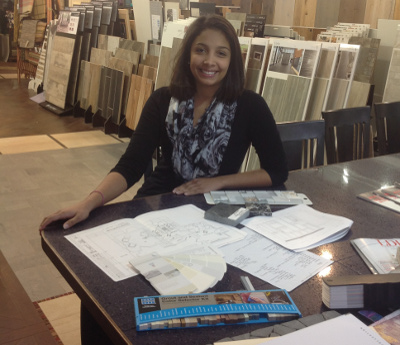 Caitlin Miller, Allied ASID
Caitlin handles all aspects of project design, from creating custom tile patterns to coordinating fabrics and flooring to furniture selection and placement. A graduate of the Art Institute of York with a Bachelor of Science Degree in Interior Design, Caitlin has extensive knowledge of residential and commercial design and is a Allied member of the American Society of Interior Designers.
Caitlin continues to expand the company's design offerings, most recently with a new fabric line, blinds and custom furniture. She's always ready for a challenge and loves working with color.
When she's not designing beautiful interiors, Caitlin teaches jazz, ballet, and tap dance at the Studio in Enola. A student of dance for over 10 years, she began assistant teaching at age 14, and this will be her third year as an instructor. She has participated in and assisted in numerous productions throughout the years.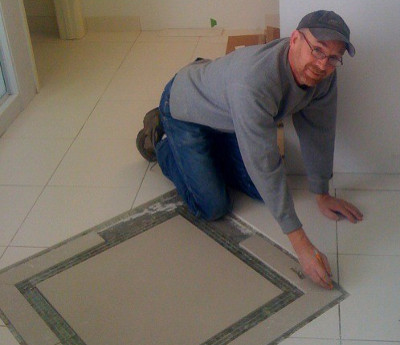 Michael Myers
Mike is the second generation to operate Myers Floors & Interiors, founded in 1967 as Willis J. Myers Floor Coverings by his parents Willis and Virginia. He assumed the helm in 2004, expanding the showroom and broadening the product selection to include handmade tiles, more natural stone and several wool carpet lines. In 2007, he rebranded the company Myers Floors & Interiors, paving the way for a more design-oriented company that now complements its core flooring and tile offerings with home furnishings, fabrics, and accessories, as well as interior design service.
Although he grew up in the business, he's furthered his installation expertise over the years by attending various certification courses, including Bizassa's glass mosaic training school and Wedi certification. He was one of the first installers in the area to pass the Ceramic Tile Education Foundation's comprehensive Certified Tile Installer exam, and recently completed Crossville's Laminam training for installation of large-format porcelain panels. Mike handles the majority of jobsite appointments and manages the company's in-house installation crews. He still can install everything from carpet to cabinets to tile.
When he's not working, you can find him tinkering on his classic motorcycles or enjoying the outdoors kayaking and skiing.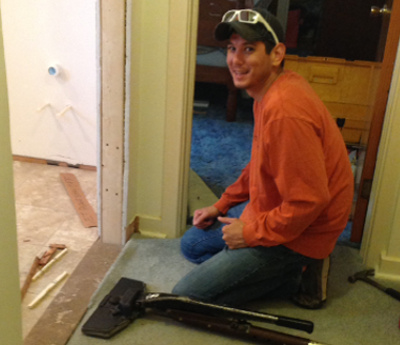 Edward Tipton
With Myers Floors & Interiors since 1997, Ed is a seasoned installer proficient in every type of flooring and tile the company offers. He brings a combination of meticulous craftsmanship and attention to detail to every project, making sure the end result is both technically correct and aesthetically pleasing.
In 2009, Ed passed the Ceramic Tile Education Foundation's comprehensive written and practical exam to become a Certified Tile Installer. He recently completed Crossville's Laminam training for installation of large-format porcelain panels. In addition to working on his own projects, Ed shares his wealth of installation knowledge by helping to train the company's new installers.
Off the job, Ed spends time with his son, Skylar, and goes disc golfing whenever he has a chance.